Experience Nuremberg
Explore the Old Town at your leisure
Nuremberg has lots of sights and museums just waiting for you to be discovered: the well called the 'Beautiful Fountain', the Church of Our Lady, with its famous moving mechanical figures, the Imperial Castle towering above the city, or the site of the Nuremberg Rallies. Many of the sights – 36 of them, to be precise – are on the number 36 bus route. Hop on and join the tour!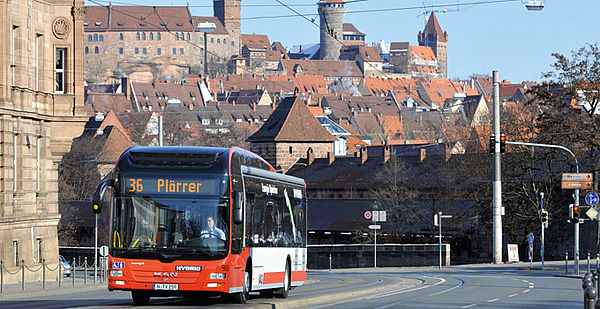 © VAG - Stephan Sachs
The Number 36 Sightseeing Line
Travel across the whole city and discover 36 of Nuremberg's sights, great and small, along the way – on the number 36 bus. On its daily route from Plärrer to the Documentation Centre, the bus passes many places that passengers – be they visitors or locals – can reach quickly and easily on foot from the stops. You can find the complete route of the 36 line in this flyer.
Sightseeing tour of Nuremberg in a historical tram
Would you like to see Nuremberg from a different perspective? Then take a guided city tour in our more than 50-year-old tram. This one of a kind tour takes you past historical sights and modern monuments, with expert guidance provided by the Society of Nuremberg Tour Guides.
The tour takes place every Monday morning from May to September, leaving from the Nuremberg Central Station tram stop at 10:00 am. During the two-hour long journey you will be taken to the south of town, past the Meistersingerhalle concert hall and the Luitpoldhain park. It ends with a walk from Tiergärtnertor to the market square, just in time to admire the daily procession of mechanical figures below the clock of the Church of Our Lady at 12:00 am sharp.
For further information, please visit our event website.
Equally popular amongst locals and tourists is our "Glühwein" tour during the holiday season: A special journey themed around the infamous German style mulled wine.
Enjoy mulled wine with "Elisenlebkuchen", a premium gingerbread speciality typical of Nuremberg, on a distinct city tour on a historical tram. The tour takes you round Nuremberg's Old Town, along the medieval city walls and the Imperial Castle and into what was once Nuremberg's industrial heartland in the south of the city. During the tour, a conductor will inform you about the city's history and tell you stories about the various sights you encounter on the route. Our Glühwein tours take place from Wednesdays to Sundays during the holiday season.
For further information, please visit our event website.
Detailed information on all sights in Nuremberg:
Tourist information in the "Nürnberg Info"
Königstraße 93, opposite Central Station
Telephone: 09 11 / 23 36 – 0

Opening hours:
Monday to Saturday: 09:00 am - 07:00 pm
Sunday: 10:00 am - 04:00 pm
http://tourismus.nuernberg.de/en/


Tourist Information
Hauptmarkt 18, in the "Rathausarkaden"

Opening hours:
Monday to Saturday: 09:00 am - 06:00 pm
Sunday (May-October): 10:00 am - 04:00 pm

During the Christmas Market season:
Monday to Saturday: 09:00 am - 07:00 pm
Sunday: 10:00 am - 07:00 pm