Special Services for more convenient transport
To make sure you get home reliably and safely, we offer a very special service: After 20:00, our bus drivers will stop between official bus stops, if traffic safety allows it. You can also ask them to call you a taxicab for the rest of your way home.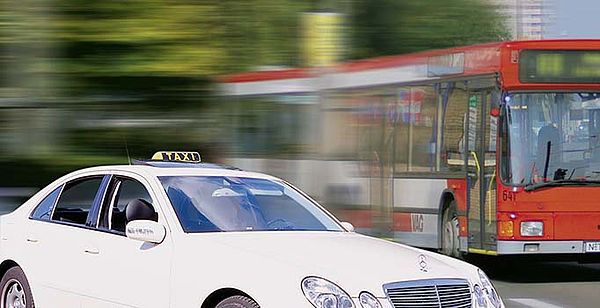 © VAG
By the way, did you know that our tickets may also include discounts with our cooperation partners?
Extra stop in the night

If you use our buses after 20:00, you can get off between official bus stops.

This is how it works: Tell the bus driver early enough when and where you want to leave – at the latest one stop before your destination. Please leave through the front door of the bus.

Please note: For timetable reasons, we can only make one extra stop between two official bus stops.

Please bear in mind our bus drivers must follow traffic and safety regulations and therefore cannot stop everywhere.

Free taxicab call

To make your way home quicker, safer, and more comfortable, our drivers will call a taxi cab to the station you leave.


This is how it works: When getting on the bus, underground or tram, tell the driver your name and your destination station or stop. The driver passes on your request and a taxicab will be waiting for you at the station or stop.

The call service is free to you – you only pay the regular taxi fare.

However, we are sorry to inform you that not all underground stations can be serviced by taxicab.

Price reductions with your ticket

It is easy to reach many exciting tourist attractions in the Greater Nuremberg area by bus or train. And, what is more, if you show your ticket at the entrance, you will get a price reduction at more than 60 Leisure Time Facilities. To name but a few: The "Dutzendteich" Boat rental, the aerial cableway as well as the summer toboggan run at the "Ochsenkopf", and many more are waiting for your visit.